HubSpot's annual research report of 4,500 marketers worldwide reveals a lot of good news for inbound marketing practitioners. Most notably, it once again shows that inbound marketing is growing in both prominence and effectiveness. Interestingly, those who self-identify as outbound marketers largely acknowledge many of the shortcomings that have led to the growth of inbound marketing. Only 17% of marketers say outbound practices (e.g. cold calling, TV/outdoor ads, trade shows, purchased lists) provide the highest quality leads for their sales team. But as outbound marketers begin to shift priorities to more inbound techniques, it is apparent that there is still a gap between outbound marketers' priorities and the priorities of accomplished inbound marketers.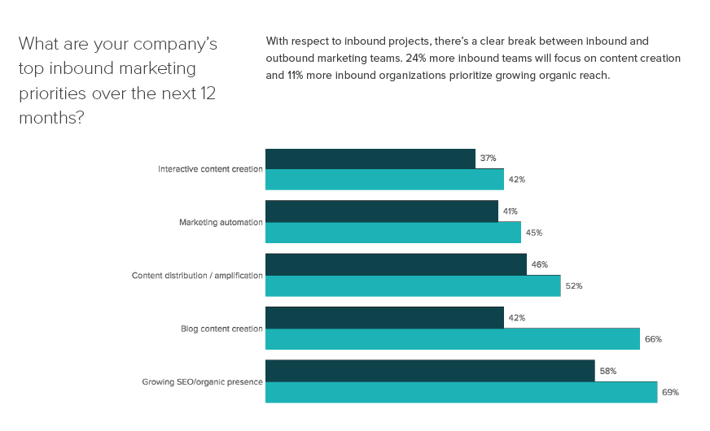 As this chart shows, for both inbound and outbound marketers (dark bars are outbound), the importance of marketing automation falls behind growing an organic search engine presence (SEO) and blog content creation. One could certainly argue that most inbound marketers long ago chose to make marketing automation a top priority because being able to manage and measure the results of inbound marketing is a critical factor in its success. While outbound marketers still largely rely on DMA and reach, inbound marketers measure actual results in a much more dynamic and precise manner, and marketing automation tools like HubSpot make that possible.
The importance outbound marketers place on blog content creation lags significantly behind that of inbound marketers, and the gap in priority of SEO is also telling. Once a marketer commits to inbound marketing, there are a few virtually non-negotiable projects that must receive proper prioritization:
Marketing automation
a. Analytics tools
b. Social media marketing monitoring and scheduling
c. Email marketing tools
Content creation on owned platforms (i.e. webpage, landing page and blog creation)
A focus on search engine optimization
The majority of the daily tasks of an inbound marketing team revolve around content marketing. Because a blog can be a powerful and effective way of generating and disseminating content on a platform owned by the marketer (as compared with Facebook where the platform and its end-customer relationships belong to Facebook), it certainly should be a top priority. And one of the many clear benefits of a thoughtful content marketing strategy is higher search engine rankings. There should be no mistaking it, maintaining a high search engine presence should be a top priority for every marketer.
However, without the tools by which to measure ones effectiveness, all of the marketer's efforts are a shot in the dark. While the search for new and innovative marketing automation tools is still a priority for us, because we have HubSpot as our primary platform (including its CMS), marketing automation is able to be less of a priority for our existing clients and us. But make no mistake about it, we would not even consider proposing an inbound marketing strategy to a client unless the plan included a marketing automation platform from which to manage blog, social media, and webpage and landing page content. This is critical for ensuring compliance with, and adherence to SEO best-practices and for measuring the effectiveness of everything we are going to do for them.
Outbound marketing is still a powerful tool to be used strategically by marketers. But inbound marketing is beginning to be acknowledged for providing a superior ROI. As a result, inbound marketers find it easier to request and obtain increases in marketing budgets and keep feeding the funnel with meaningful leads which translate to an increase in sales.
If you'd like help with your inbound marketing, please don't hesitate to reach out to us. We'd be happy to have a no-obligation discussion on how to get the most out of your marketing budget.
To download the entire State of Inbound 2016 report, click below.