Join Our Team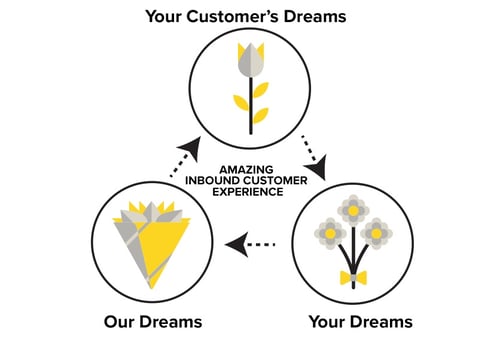 Company Culture
We subscribe to the notion of The Dream Chain: When we help our clients satisfy the dreams of their customers and/or constituents, we, in turn, satisfy the dreams of our clients and of 30dps.
We strive to create an environment of open yet respectful dialogue where creative problem solving is second only to honoring one another. We aspire to be the perfect hybrid of fun and professionalism that is both rewarding and delightful. We are committed to excellence in all things, especially integrity, and dream of its long-term rewards.
Our dreamy office offers a creative, relaxed environment where employees and clients can put their feet up, sip a bottle of Eldorado Spring Water or a beverage from our soda fountain, and jointly explore new, pertinent, and effective ways of producing amazing inbound customer experiences.
Our stimulating but informal setting encourages open, honest communication—and a productive synergy of creativity and technical expertise. Our clients often ask if they can meet at our place, because "Your place is a lot more fun!"
Come have fun with us!
Career Opportunities
If you are based in Colorado Springs, CO, or Springfield, MO, and are an enthusiastic, life-long learner that is driven by a fast-paced, high-pressure environment, you may be the perfect fit.
Internships
In today's marketplace, and with the current state of the economy, internships are considered by many to be a requirement of full-time placement, i.e. increasingly, only candidates with some experience or at least one internship are considered for full-time employment by many employers. 30dps views internships as a perfect opportunity to find and groom its next top performers.
Resumes
While we aren't always hiring, we are always on the lookout for our next rock star. If that describes you, we can't wait to meet you!
If you'd like to submit your resumé for our consideration, please contact us below.
* We think it's important to hire amazing folks who: listen, learn, follow instruction, and pay attention to detail. As such, our first measure of how good of a fit you might be is to see if you actually CLICK the link below rather than filling out the customer contact form below (and wondering how to attach a resumé to it). We believe in you—you can do this!