If you haven't downloaded the latest State of Inbound Marketing 2015 report from HubSpot, be sure to click on the link below for a free copy of this important report. It has some extremely insightful findings regarding the challenges facing marketers, and the opportunities Inbound Marketing presents.
Not too surprisingly, "Proving a demonstrable return on marketing dollars was the most oft-cited challenge across companies of different size and focus," the diagram below from the report shows.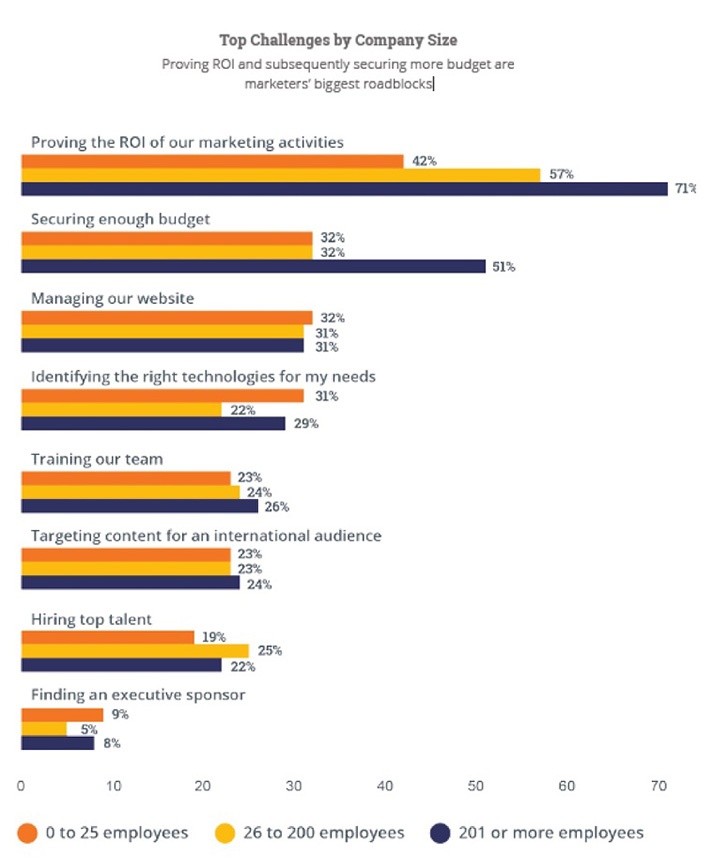 If you are like these marketers, you certainly understand the importance of monitoring the ROI of your marketing efforts. But did you also know that you are twice as likely to see an increase in budget if you attain that positive ROI? The report also points out that even more significant is the finding that demonstrating a positive ROI makes you nine times less likely to suffer a lower budget the following year.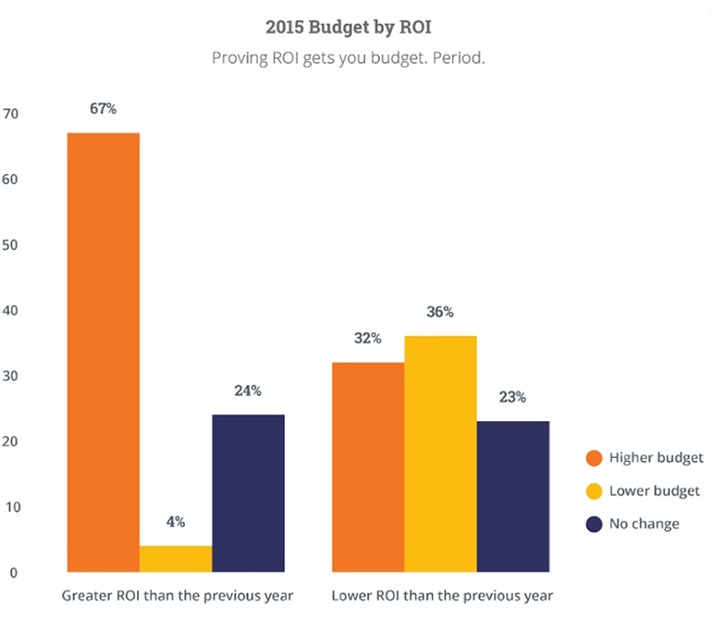 One of the most important and compelling findings in the report is that there is a direct correlation to those marketers that focus on inbound marketing and achieving both the positive ROI and increases in budget. Among the report's conclusions are the following regarding the best practices of those marketers that were realizing positive ROI:
Inbound efforts achieve higher ROI than outbound regardless of company size or total marketing spend.
Leading marketers resist the allure of paid campaigns and recognize outbound as being overrated.
Past success with inbound marketing is the single-biggest factor that drives budget increases.
Based on input from almost 4,000 respondents from all over the world, the report shows that inbound is the preferred method of marketing for all companies that spend under $5M annually on marketing. In fact, according to the data, if an organization spends less than $100,000 on marketing annually, it is four times more likely to practice inbound than outbound marketing.
But one of the most exciting findings in the report is that every company surveyed—regardless of marketing spend—was three times more likely to see a higher ROI by employing inbound marketing practices than on outbound.

As a full-service marketing and advertising agency, we help our clients with outbound campaigns. But because we are always looking for ways to improve the ROI of our clients, we often try to persuade them to invest in a solid content marketing strategy, to produce high quality content for their inbound marketing efforts, and spend less of their budgets on expensive, lesser-performing outbound advertising.
Candidly, some of our most compelling client success stories are stories of outstanding returns on marketing investment that resulted from taking advantage of marketing automation in support of their content marketing/inbound marketing efforts.
When one of our clients recently said, "If you can show the kind of increase in conversion rates you're projecting, you'll no longer need to worry about bringing on new clients," we took that challenge seriously. It's early yet, but so far, we're seeing more than a 10x increase in conversion rate, and that my friends will translate to a heck of a positive ROI for these fine folks… and I'm guessing a pretty big increase in marketing budget to keep the inbound marketing efforts moving!