As a leading content marketing agency in Colorado, we've observed that there is a common "trajectory" for content marketing that can leave a marketer perplexed and a little disappointed. New to the strategy and utilizing only in-house resources, you come out of the chute hot with some great content. Your target audience, hungry for actionable insights, grows rapidly as prospects gobble up all the materials you produce. Then, out of nowhere it seems, interest in your content and your overall reader/viewership plateaus or even starts to drop. Why? Read on.

Inbound Marketing: Getting Back to Growth
You've decided to implement a content marketing strategy. Good call! You hire (or assign) a content writer, a graphic designer, and perhaps a social media expert to drive this new initiative. You all put your heads together and come up with ideas for some very compelling content and get to work crafting it. Inevitably, those ideas are the low-hanging fruit from your content tree. This isn't to say it's not interesting and engaging material—surely it is. But it's right there in plain sight.
The issue arises when the low-hanging fruit is exhausted. Then the real work of content marketing begins. And suddenly you have needs your talented-but-small marketing team isn't geared to handle—things like research, analysis, content curation, etc. Yes, you can task them with becoming proficient at new skills, but that requires time, effort, and quite possibly putting your content marketing program on "pause" while they get ramped up. And there is much expertise they need to acquire if your inbound marketing engine is to start hitting on all cylinders. This matrix from Econsultancy shows some of them: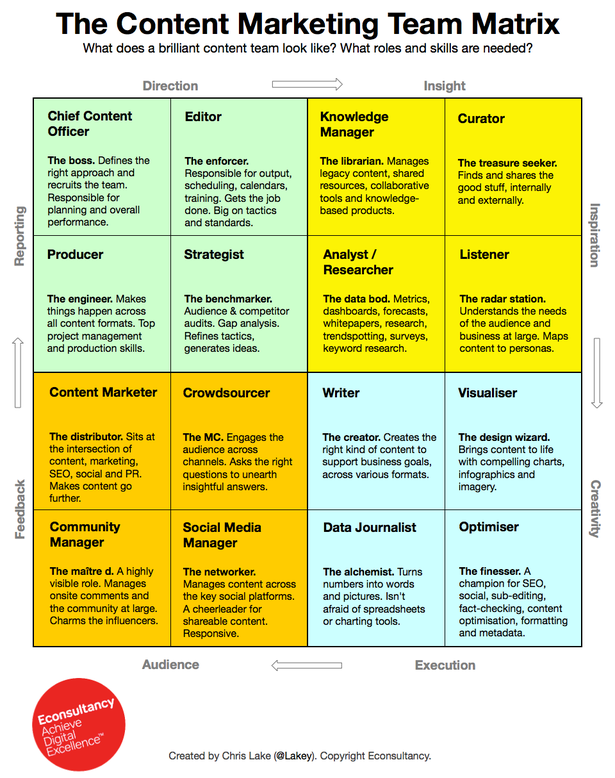 It's easy to see how much more effective these skills can make your content marketing program... but also how challenging it would be to develop and maintain them. The solution? For many companies, it's outsourcing some or all of these functions.
As compared to either training for or hiring for these roles, working with an agency can be far more cost-effective. And when it comes to preventing your content marketing program from stagnating, outsourcing is, by far, the most effective approach. Is this observation a little self-serving coming from a content marketing agency? It might seem so. But even minimal research and reflection will show these statements to be true.
Extensive Content Marketing Expertise at Your Disposal
Ready to resume (or begin) an upward arc for your inbound marketing efforts? A great first step is a conversation about your goals and your needs. From our office in Colorado Springs, Colorado—and with our teams in Olympia, Washington and Springfield, Missouri—we help companies across the country tackle their content marketing challenges to increase their audience, gather more high-quality leads, and grow revenue. We can do the same for you.