While purchased templates and themes can be great time savers, they are inherently cookie cutter solutions, i.e. your website design will largely look just like dozens, hundreds, or even thousands of other websites. Even more importantly though, the selected template may simply not fit your unique needs or really suit your brand. So there is great advantage to being able to develop custom website designs.
Fortunately, in addition to a built-in Marketplace for finding templates and themes, HubSpot also has a powerful drag and drop Design Manager for custom template development. The Design Manager utilizes a 12-column bootstrap responsive-grid system that makes use of canned modules to layout a page template. All of these drag and drop templates automatically include a minimal CSS file that makes the grid responsive across different screensizes. While knowing some CSS is beneficial and will better allow a designer to construct the desired look and feel, the Design Manager creates a significant advantage over other CMS platforms like WordPress and Joomla, especially for non-programmers.
As you can see in the screenshot below, the Design Manager includes many of the most common modules that you would likely want to add to any page template, like Rich Text, Image, Logo, Image Slider, Form, etc. (By the way, the Design Manager is used for email and landing page templates as well, and is also where you access and edit CSS.)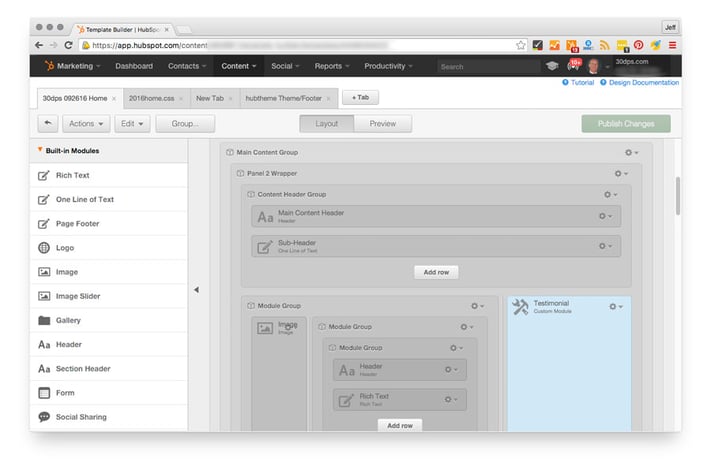 Being able to drag and drop modules onto the template, arrange and group them, apply unique attributes to them, and create and apply your own CSS to them, makes HubSpot's Design Manager a powerful and easy to use tool.
While most of our clients don't venture into the world of Design Manager themselves, this tool is nonetheless a great time- and money-saver, as it allows the designer to work more quickly than if they were to use more traditional tools. There is a bit of a learning curve to using the tool, but the more intimate you are with it, and the more you know about HTML/CSS, the more powerful Design Manager will be for you. We still build websites in other content management systems, but we have definitely learned to appreciate the improved capabilities and benefits of this tool.
If you are considering redesigning your website and if you have been eyeing marketing automation, we would encourage you to look no further than HubSpot. HubSpot's CMS and the Design Manager allow you to build a custom website with an incredibly easy to use interface for building your web page, landing page, and email templates; and the most intuitive user interface for managing the content of your website. As a HubSpot Partner, we are extremely pleased with the capabilities it provides to us and our clients, and the impact that marketing automation brings to the marketing table.
If you would like help better understanding how HubSpot can make a difference in your business, please don't hesitate to contact us. We are always delighted to provide a no-obligation, free consultation to anyone considering developing a custom website built on the HubSpot marketing automation platform.