We have started this blog for our friends and colleagues in manufacturing. We have been extremely fortunate to have had the privilege of serving a number of excellent clients in the manufacturing space, and are pleased to see the benefits of inbound marketing for manufacturing companies through these efforts. This blog will be dedicated to serving those manufacturing marketers that are interested in, but not yet fully committed to inbound marketing, those that are committed but struggling to make it work, and those that are fully-loaded but just might need a bit of inspiration to take it to the next level.
While some in manufacturing have yet to embrace the merits and power of inbound marketing and content marketing, others are well on their way. In fact, from a group of manufacturers surveyed by the Content Marketing Institute, 65% were planning on increasing the amount of content they create.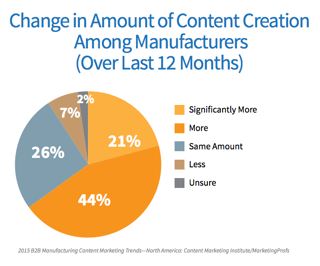 Nonetheless, manufacturing marketers are still lagging behind other B2B businesses by a good margin. For example, 26% of manufacturing marketers consider their organization to be effective at content marketing as compared with other B2B marketers at 38%, and while 35% of other B2B businesses have a documented content marketing strategy, only 20% of manufacturing marketers have one.
Our goal with this blog will be to provide manufacturing marketers with insights, data, and reflections on all things associated with the inbound customer experience, including:
inbound marketing
content marketing
marketing automation (HubSpot especially)
analytics and tools
website design and approaches to development
conversion optimization
custom app development
Please let us know if there is a topic you'd like to see explored in more detail. As a leading inbound marketing and content marketing firm that specializes in creative conversion-focused website design that supports the needs of manufacturers, we're here to help.
And please sign up for this blog now, so that you will be sure to not miss a thing.