Did you know the average person is exposed to almost 10,000 branded messages per day? From the moment they wake up and brush their teeth to when they end the day snuggling up on the couch to their favorite TV show, consumers are being bombarded with brands starving for their attention. And in this digital age, it's getting even easier for "them" to reach their audience anywhere, any time. Whether it be pop-up digital banners, an autoplaying video, or sponsored social media posts, more and more consumers are getting more and more agitated with the ever growing presence of online ads. And we hate to be the bearer of bad news, but it's only getting worse.
A Revolution in Waiting
In
Hubspot's State of Inbound 2016 report
, 91% of the 4,500 survey respondents said that ads are more intrusive today than they were two years ago. And, 87% say that they feel there are more online ads in general than two years ago. So what gives? And more importantly, what does this mean for marketers?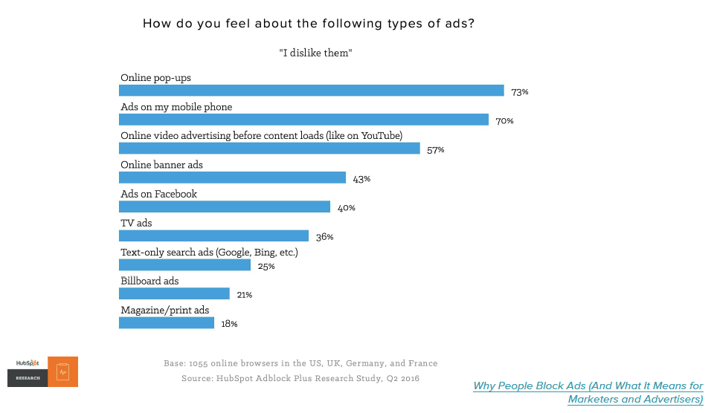 It means that eventually, consumers will adapt and will retaliate. Heck, they already have. Ad blockers and ad filters are now spreading like wildfire. Mobile ad blocking is growing by 90% every year (
InformationWeek
) and 429 million people are already using an ad blocker on their mobile phones (
International Business Times
). If marketers refuse to adopt less annoying online tactics, they will be forced to eventually find different methods to reach them.
An Unforeseeable Future
So what will the future have in store for marketing? Changes. BIG changes. Because our audience is so overwhelmed with these 10,000 branded messages every day, they are no longer captive. They (and we at 30dps) have learned to tune it all out. It's kind of like that same old Christmas carol you hear every year that drives you crazy when they first begin playing it on the radios. By the time New Year's Day rolls around, you've become completely indifferent about that jingly tune. You're numb to it.
As both marketers and consumers, we at 30dps have a unique perspective. We often think about how we feel about certain marketing strategies that are directed toward us and what we don't necessarily like. These insights along with the overall influx of digital ads has only reaffirmed our belief in
inbound marketing
and the importance of creating non-disruptive marketing strategies. We're not
exactly
sure what the future has in store for professionals like us, but we think inbound marketing will definitely be playing a very large role.
Ready for your brand to get a headstart? We would love to talk to you about inbound and why it's the future of marketing. Also, don't forget to download Hubspot's The State of Inbound 2016 report below for even more inbound information gold nuggets.