Inbound marketing is certainly not for everyone. It is really only for those that are passionate about doing things differently than they've been done in the past—those that are committed to creating meaningful and lasting relationships with customers, not just saying whatever is necessary to close the sale. While almost all of us would agree that the former is superior to the latter, much of traditional marketing and advertising is solidly rooted in the latter.
Today, our customers are dramatically more sophisticated than in the past, as they have amazingly powerful tools at their disposal; tools that make it much easier to make informed decisions. And our customers are almost completely disinterested in being "sold to". Rather, they are eager to inform themselves, want to feel like they are being listened to, and that they matter. Clearly, much of this does not fall into the camp of traditional mass media marketing, glossy brochures, fancy, long-winded proposals, or aggressive salespeople. But how is inbound marketing different?
How It's Different
Why do most visitors come to your website or call your office? Most likely, they are seeking information. If they are just beginning the process of researching the kinds of products or services you offer (Awareness), they are looking for loads of information that will help them understand their options. If they have decided that they intend to buy (from someone), they are likely to be looking for detailed information or demonstrations that will help them differentiate the options and simplify their decision-making (Evaluation). If they already think they know exactly what they need, they are likely looking for a free trial with your product or will request a free consultation in order to get a flavor for your service—and they will want to examine your pricing, references or reviews in order to determine if you are a viable option (Purchase).
With traditional outbound marketing, you'd focus your resources on producing campaigns that would have a limited lifespan. With content marketing, you'd focus your resources on producing amazing evergreen content that would directly address the needs of these information-seekers, and that content would continue to produce results long after a traditional campaign would have lost steam.
How It Works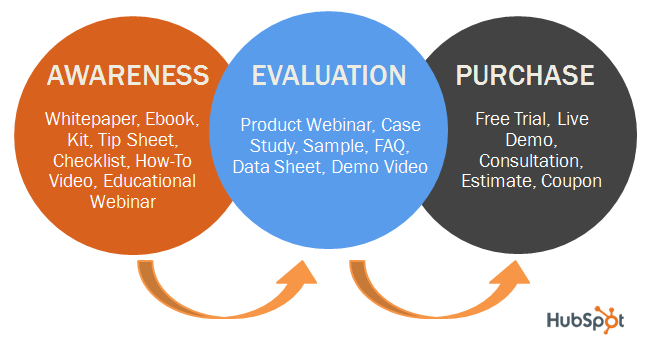 As the diagram above suggests, inbound marketing, powered by a solid content marketing strategy, takes many forms across the buying lifecycle. Each of the devices listed are potential inbound or content tools that help support the needs of your prospects as they move through the buying cycle. For example, a how-to video is a great way to educate a prospect early on in their quest for more information. Your video should not be promotional, i.e. salesy, it should be instructional. By offering your expertise with no strings attached, you not only help inform them, but begin the process of creating an meaningful relationship with them that is rooted in trust.
As you move through the buying lifecycle, the needs of your prospects evolve, as should the kinds of interactions you have with them. In the Evaluation stage, when they are in the process of trying to winnow down their options, you would want to offer them things that will help them make the well-informed choice. By providing them with case studies that show how your product or service has benefited others like them, you help them make the connection that they too would benefit from doing business with you.
When done well, your content will lead your prospects down a path of persuasion that helps them realize that perhaps some hands-on experience with your product or service may be all they need to make up their minds. With free trial offers or free consultations, you have a substantial advantage over the competition, in part because you've nurtured this relationship from the very beginning without ever being perceived as a pushy or aggressive salesperson.
Why We Do It
While inbound marketing isn't for everyone, practitioners must understand that it is critical to give your prospects the very information they need, when and how they need it. This requires a thorough understanding of who they are (i.e. with personas) and what their needs are within each stage of the buying cycle. With a solid grasp of those two things, the marketer's job is to produce amazing content, and use inbound marketing techniques supported by a robust marketing automation and analytics package (like HubSpot) to convert these loyal followers. Ultimately, of course, the inbound marketer still has "sales" as the driving force behind it all. That necessitates the "ask" or call-to-action.
[Ahem… that sounds like a great opening for our offer to help you better understand how inbound marketing can help your organization sell more, by selling less—by giving your prospect more of what they really want. Please contact us today so that we can explore together how inbound marketing can make a difference in your business.]