A Local Marketing Agency... No Matter Where You Are
Whether you are looking for a branding company, marketing agency, marketing consultant, web design company, or even an ad agency, we are committed to providing the highest-quality, full-service marketing services without the arrogance or outlandish pricing of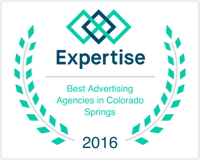 some in the industry. We pride ourselves in being a local company that has an expansive reach and great ideas (and were recently ranked as one of the best advertising agencies in Colorado Springs... we're not hard to find, we're at the top of the list). While we are expanding into (Springfield) MIssouri, and (Olympia) Washington, regardless of where your business is located (or even if you're distributed all over the world) we will make sure you have an intimate, amazing experience.
While we have been proud to serve Colorado businesses for over 25 years, we have also had the good fortune to support clients from coast to coast. Unlike traditional marketing companies, we at 30dps have constantly looked for new ways to do things, learning from the best practices of other top agencies, industry thought-leaders, and marketing innovators from around the world. While other marketing and advertising agencies have continued to do things much the same way they always have (with expensive mass media advertising), the team at 30dps is implementing state-of-the-art solutions to help our clients stand out in a crowded field.
Certified HubSpot Partner
30dps is a full-service inbound marketing agency and Certified HubSpot Partner. If you are already using HubSpot and would like to get more out of it, we can help. If you don't yet know how HubSpot can drive website traffic and dramatically increase the effectiveness of your marketing and sales efforts, we'd love to discuss inbound marketing, content marketing and HubSpot marketing automation. We serve clients throughout Colorado and companies across the U.S.